Thank you for supporting the work of Christ Church! Here are 4 easy ways to give:
1. Give at church
We know it takes planning these days to bring money or a check with you to church, but we encourage you to do it if you live in the area. Giving all together as a body to the work of the Lord is a joy to participate in.
2. Give online
Whether you do your banking online, or live out of town, online giving sure is convenient.
3. Give by mail
Maybe you live out of town. Maybe you can't make it to church. Whatever the reason, if you prefer to send a check or have your bank send a check, our mailing address is:
Christ Church
4193 McLean Dr.
Cincinnati, OH 45255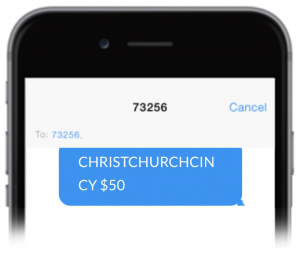 4. Text to give
Send a text to 73256 with "christchurchcincy" and an amount in the body to give right now.